Community Corner, Helping to fight hunger
Rescuing food to help others: Linebacker T.J. Watt returned to the playing field on Sunday, making his presence known in the Steelers win over the New Orleans Saints.
Two days later he made his presence known in the Pittsburgh community, working hand in hand with 412 Food Rescue, an organization he has been affiliated with for several years now.
"I always enjoy getting involved in the community, and 412 Food Rescue has been a great opportunity for me to get out there and let them know I care about what they are doing," said Watt, who was joined by his wife Dani helping out. "I want to get involved as much as possible. 412 Food Rescue provides so many meals for families that don't necessarily have the opportunity to afford food, especially with Thanksgiving and all of the holidays coming up. It's a way to give back."
Watt helped to pack food at the Millvale Good Food Project, a hunger relief program operated by 412 Food Rescue that transforms surplus foods in healthy, heat-and-eat meals and groceries that are distributed to area residents dealing with food insecurity. Over 500 grocery bags are packed and disturbed weekly in partnership with the Housing Authority of the City of Pittsburgh.
"Food insecurity is something that people can't always control their circumstances," said Watt. "We understand everyone is trying their best, but sometimes you need a helping hand. That is what we are trying to provide. A lot of these families have young kids who don't control the situation they are born into. To be able to help out as much as possible is awesome."
Watt began working with the agency in 2019, choosing to team with 412 Food Rescue, a Pittsburgh based organization that was founded as a response to the disconnect between food waste, hunger and environmental sustainability, because he knows the importance of having proper nutrition and not having to worry about where your next meal is coming from.
The efforts of 412 Food Rescue are made possible by their affiliation with local distributors, mom and pop stores, chain restaurants and urban farms all with the goal of not letting quality food go to waste.
"I think it's important to let everyone know who is donating, those who might want to donate, that everything is getting used," said Watt. "The food is not discarded. It's going to good use and going to make a lot of people happy."
The silver lining: The Steelers continued their Social Justice film screening program on Tuesday morning at the AMC Loews Theater Waterfront.
Defensive tackle Cameron Heyward hosted the latest screening which featured the movie, 'Black Panther: Wakanda Forever,' the sequel to 'Black Panther.'
Over 600 students from Pittsburgh Public Schools, as a part of a partnership with the Steelers, 1HOOD, Homewood Children's Village, Urban League of Greater Pittsburgh, Homeless Children's Education Fund, A+ Schools, and Movie Scene Queen, are seeing the movie for free over two days, with a group of them taking part in the discussion with Fitzpatrick and Heyward.
"I think it's awesome providing kids not only the opportunity to see movies, but to see people of color in these really cool roles is huge," said Heyward. "Then to be able to talk to them, it goes a long way. We talk to them about what built up to the movie, what transpires and just understanding people of color can thrive in these really cool opportunities."
The program was launched in 2021 by the team's Social Justice Committee, with players joining youth from local schools and community groups, giving them an opportunity to talk about issues in society that are currently impacting them.
"To see the positive side and find the silver lining is important," said Heyward. "We provide different ways of how we can continue to have talks and grow."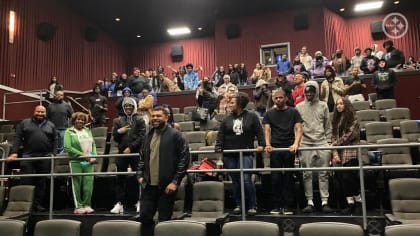 John Wodarek, the @Steelers Event Operations Manager, is the #Steelers nominee for the @NFL's #SalutetoService Award, presented by USAA.

Learn more about him and VOTE NOW: https://t.co/27q3jAyvIr pic.twitter.com/fAecoLpLov

— Steelers Community Relations (@SteelersCR) November 15, 2022
In her happy place: The smile, the expression, the complete joy on Chloe Fittro's face and in her heart said it all.
She was truly in her happy place on Friday afternoon.
Fittro, a 15-year-old cancer patient from Clarksburg, West Virginia, was the guest of the Steelers at practice at the UPMC Rooney Sports Complex through the Make-A-Wish Foundation.
"It's really special," said Fittro. "I like meeting all of the players. My favorite players are Najee Harris and T.J. Watt and I get to meet them."
Fittro watched practice in the indoor practice field, and when it was over the entire team made their way to the sideline to say hi to her, take pictures and sign autographs, Watt even presenting her with signed gloves.
"My family have been Steelers fans for a long time, and they got me to be one," said Fittro. "I really enjoy watching them. I love how they all play together as one, how close they all are. This is just so special."
Fittro and her family will also be guests of the team at the Steelers-Saints game on Sunday at Acrisure Stadium.
"I am really excited," she said with a squeal. "This is just so special. Just seeing the guys out there…I am going to melt."
Getting their hands dirty: Steelers rookies spent Tuesday afternoon getting their hands dirty and it was all for a good cause.
The players spent time at the Sheridan Avenue Orchard and Garden, a fruit and vegetable producing garden in Pittsburgh's East Liberty neighborhood.
The Sheridan Avenue Orchard and Garden was developed in 2012, turning an abandoned lot into an urban garden by Repair the World Pittsburgh.
It has since grown from a vacant lot to have more than 20 fruit trees and 18 garden beds, where neighbors can get free produce like tomatoes and peppers, as well as items being donated to the local food pantry.
The job at hand was helping to complete a pathway that will make the garden more accessible for residents, a project that was started by Cameron Heyward and some of his veteran teammates during Cam's Kindness Week in October.
"They worked on the path to make it more accessible for the community to come and learn about food justice and participate in making food more available to the community while building relationships with each other," said Jules Mallis, executive director of Repair the World Pittsburgh. "Repair the World Pittsburgh supports a lot of community gardens and food justice initiatives. This one at Sheridan in particular supports the local community through harvesting about 400 to 500 pounds of produce a year that comes fresh from this space and then goes immediately to the East End Cooperative Food pantry.
"This season we are building out the pathway so people have an easier time getting through the space. Folks can feel welcome to visit and pick fruit right from a tree."
---
May be you like other products below, let's buy a product to cheerleading your team:
NFL Pittsburgh Steelers Hoodie Custom 3D Printing/, NFL Pittsburgh Steelers Jack Skeleton 3d Full Printing Unisex Pullover Hoodie/, NFL Pittsburgh Steelers Mickey Mouse Disney Unisex 3d/,

Nfl Pittsburgh Steelers Skull Men And Women 3d Full Printing Hoodie/, NFL Pittsburgh Steelers Team Youth 3D Full Print Hoodie/, NFL Pittsburgh Steelers Tree Camo 3d Full Printing Hoodie/,